About Multigas Detection
Right from our Alberta grassroots beginning 30 years ago, Multigas Detection and Reltech has been service-driven. This means that the customer's unique application, energy, and safety requirements come first. The caliber of equipment maintenance and service that all of our technicians possess has produced a company known for outstanding customer service and quality assurance.
Our standard of excellence has also resulted in manufacturers Honeywell, Armstrong, QEL, and Airtest designating us their factory representatives for Western Canada.
For you the customer, the strength of our team means that we will assess each application individually to determine the optimum equipment type and maintenance schedule, leaving you confident that you have received the safest and healthiest building possible.
Download our latest publication on Sensor Calibration Frequency.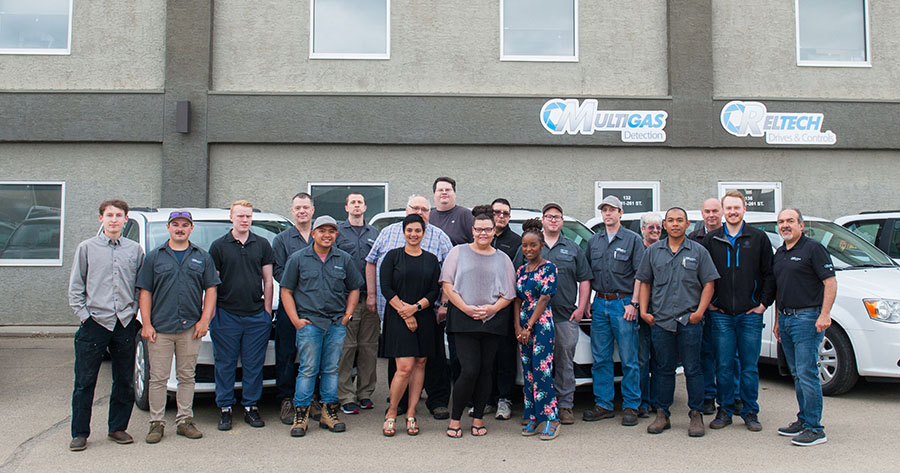 Services
Multigas Detection specializes in fixed gas detection systems for a variety of applications, both commercial and industrial. Our technicians are factory-certified and trained for the highest level of service, including verifying the operation of the air handling equipment connected to the system. We go the extra mile to ensure your building is safe and healthy.
Our years of experience working with building owners and operators combined with industry best practices for optimal performance of a gas detection system has resulted in calibration and service standards that produce safe and healthy buildings, with the highest level of energy efficiency. Our goal is the sweet spot of utmost safety combined with a reduction in capital expenditures due lower operating costs and by maximizing sensor lifespan.
Reltech Drives and Controls specializes in the sales, installation, commissioning, preventative maintenance, and servicing of Variable Frequency Drives (VFDs). These are sometimes also known as soft starts, inverters, or variable speed drives (VSDs). A VFD is often a critical piece of equipment in many different applications, and having to replace one can be a large capital cost, as well as a disruption to the operation of the building. Having a Preventative Maintenance program in place will extend the life or your VFD's and the applications they operate.
"Did you know": It is estimated that 18% of the energy used in electric motors could be saved by efficient energy improvement technologies such as VFDs. The payback in energy savings that can be achieved is substantial.
Multigas Detection and Reltech also provides automation and controls service.
Our experienced technicians are factory trained and certified to provide the best service in Western Canada, and are on-call 24/7.